Bridge Inspection Levels 1 & 2 Workshop
Cairns
17 - 19 September 2019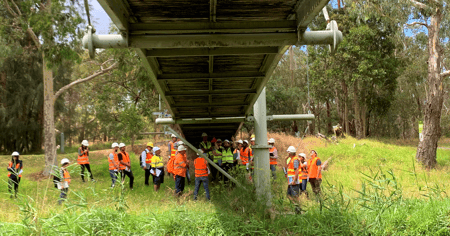 Registrations for our Cairns workshop are now open!
Our Melbourne workshop sold out before we released the details to the public so get in quick!
Bridges and other structures are crucial asset elements of the infrastructure network. It is essential that their condition is monitored and repairs are planned and completed in an efficient and timely manner. The systematic inspection, condition rating and monitoring of these assets are vital components to managing the life-cycle of these structures.
This 3-day workshop will assist participants to develop the knowledge and skills to conduct Level 1 and 2 inspections in accordance with industry best practice. Attendees should have a basic knowledge of bridges and culverts.
A Level 1 routine maintenance inspection is required to check the general serviceability of the structure, particularly for the safety of road users, and identify any emerging problems.
A Level 2 condition rating inspection is a key step in assessing the effectiveness of past maintenance treatments and identifying current maintenance needs to assist in the forecasting future changes in condition and estimating future budget requirements of structures across the network.
The Level 1 content is covered on Day 1 and the morning of Day 2. Level 2 then continues from the afternoon of Day 2 until the end of Day 3. Participants who wish to complete Level 2 are required to attend all three days.
17 - 19 September 2019
VENUE TBC
TBC
Cairns QLD
This workshop is extremely popular and sells out fast - register now to ensure you don't miss out!
CONTENT
Introduction to structures inspections
Structure types and their components
Identifying common defects
Access and equipment requirements
Inspection Forms and Data Recording
And much more!
PRESENTERS
ROBERT MEIKLEJOHN
SENIOR PROFESSIONAL - FUTURE TRANSPORT INFRASTRUCTURE
Robert is an experienced structural engineer specialising in the delivery of professional asset management services to the private and public sector.
His skills include the management and delivery of Level 1, Level 2 and Level 3 inspection contracts and he has been involved in the inspection of over 600 structures since joining ARRB.
DR NEAL LAKE
PRINCIPAL TECHNOLOGY LEADER - FUTURE TRANSPORT INFRASTRUCTURE
With over 22 years' experience in multi discipline engineering environments, Neal has gained a wide variety of experience in the areas of civil infrastructure evaluation, design and asset management; heavy industrial infrastructure evaluation, design and retrofit; structural testing and measurement; research and commercialisation. In 2001 Neal gained his PhD in the field of bridge evaluation, health monitoring and life extension, and has extensive experience in the use of data acquisition equipment and large volume data analysis.
WHO SHOULD ATTEND
The workshop is primarily aimed at, but not limited to:
Road and bridge maintenance field staff
Existing Level 1 and 2 Inspectors
Leading hands
Works Supervisors
Inspectors
Engineers
Consultants
Contractors
It will be beneficial for attendees to have a basic knowledge of bridges and culverts.
KNOWLEDGE TRANSFER ACCREDITATION
This workshop provides the underpinning knowledge to align with nationally recognised units of competency from the Certificate IV in Civil Construction Supervision as well as other civil construction qualifications.
Many road authorities require bridge inspectors to undergo additional internal training before being allowed to lead level 2 inspections for their agency. The internal training usually includes organisational policy, systems and procedures and industry best practice.
ARRB is working towards gaining recognition by road authorities Australia wide.
Click below to find out more info on our website.
UPCOMING WORKSHOPS
These workshops sell out fast, register now!
BRISBANE: 4 - 6 NOVEMBER
We are now taking expressions of interest for our 2019 workshops, register your interest today so you don't miss out.
HOBART: 1 - 3 OCTOBER
*Dates and prices are subject to change.